Victoria Walsh's favourite place is the kitchen, where she creates, discovers and experiments with all things food. Whether she's writing about great eats, inventing and testing new recipes, or unwinding with a glass of wine and a slice of cheese, Victoria gives her kitchen plenty of quality time – and her kitchen always gives back!
After Victoria received her certificate in Chef training from the acclaimed program at George Brown College, she honed her skills as a chef and a pastry chef in the kitchens across Toronto, including Sen5es.
Victoria earned her chops as a writer and recipe developer while working as associate food editor at Chatelaine and compiling, editing and developing the Chatelaine Modern Classics cookbook. She is food editor for Grapevine and previously food editor for Today's Parent. She writes for a variety of Canadian publications including, Food & Drink, Toronto Life, Glow, winefox.ca, Besthealthmag.ca, Yahoo.ca and Foodnetwork.ca.

She has food styled for Lucy Waverman at the Globe & Mail as well as for Steven and Chris. She's also appeared on Breakfast Television, CityLine, as a judge on Chef Worthy and created, developed, styled and starred in an extensive series of cooking videos called 'Cooking Class' for Chatelaine.com.
These days she's focused on bringing all of her skills — styling and onset photography prep, recipe development and food writing and overall concept creativity — to develop and oversee projects from seed to fruition and offer the full package to clients. She's also been channeling these creative energies and skills for a unique cocktail project that includes an ongoing cocktail pop-restaurant, an "in the works" online destination and an ever-growing collection of Canadian drinks and food pairings.
Food Styling
Victoria uses the freshest most beautiful ingredients to compose lovely dishes with a modern yet approachable feel. She loves working on a variety of ingredients and recipes ranging from meticulously prepared desserts to rustic homemade dishes.
Recipe Development
Victoria's recipes are aspirational yet dead simple and down to earth to prepare. Her fast, fresh and modern approach is sure to please novice and pro cooks alike. Aside from creating original content, Victoria also specializes in translating notoriously complex chef recipes into doable versions for home cooks to complete with ease.
Video and Television
Victoria is very promotable and mediagenic. Her easy-going on-camera attitude, chatty nature and ability to demo simple and complex recipes have earned her television spots on Cityline, City TV and Breakfast Television. She has also been featured on Chatelaine.com, as a celebrity guest judge on Chef Worthy.
Victoria is also a very capable television food stylist. She styled all of the Cooking Class video series for Chatelaine.com. She was the Steven and Chris food stylist and has assisted with food styling for many of the macabre feasts on Hannibal (the television series).
Writing
Victoria has a respected and recognizable byline and brand with a reputation for informative-yet-creative writing style and perfectly tested recipes. One of Victoria's proudest accomplishments is the Chatelaine Modern Classics cookbook, which she had the privilege to compile, edit, develop and assist with the photography direction as well as contributing to the development and testing of each recipe during her years at Chatelaine.
Victoria also has lots of online experience engaging with an community through her blogs, In the Kitchen with Victoria Walsh on Chatelaine.com and So Cheesy on Toronto Star's Winefox website.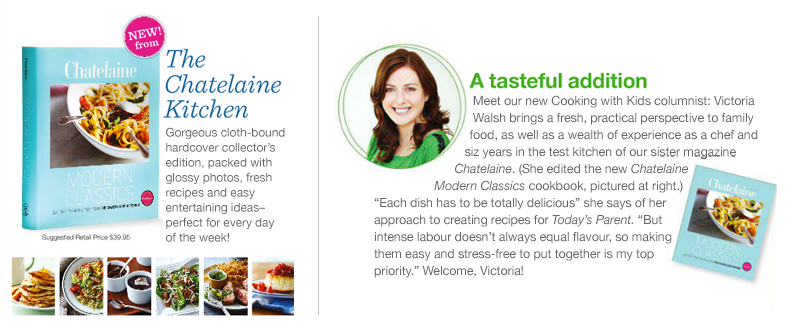 Recommendations
"With an extensive food background as a chef, caterer, associate food editor and stylist, Victoria combines all this experience with style and imagination to produce vibrant appealing recipes."
– Monda Rosenberg, freelance food writer and editor and former Chatelaine food editor
"Victoria Walsh is brilliant—a resourceful, creative recipe developer and food editor who knows exactly how to please home cooks with inventive, contemporary takes on classic cuisine."
– Maryam Sanati, Toronto Life editorial director, special projects and former Chatelaine editor-in-chief

"I've been enjoying Victoria's food – as both an editor and a friend – for the past nine years. Her recipes are mainstays in my repertoire thanks to the fact that they're always fresh, always accessible and always inventive. Most importantly, they always work!"–
– Maureen Halushak, editor and former Glow acting editor-in-chief and Chatelaine